SPA Full-System Business
Intelligent Openfloat System – I.O.F.S
The "Intelligent Openfloat System" is a fully-automated system that monitors and controls the entire floating process. This includes water treatment as well as cleaning of the flotationpool and brine storage unit. All of the areas can be controlled at your convenience using an exclusive display or from your iPad. Whether it is for commercial use or in your private wellness area, as a future flotation partner we offer a perfect, harmoniously combined system with the easiest technical operation and the lowest requirements of space. A perfect system that finds sufficient space everywhere, easy to install and capable of immediate use.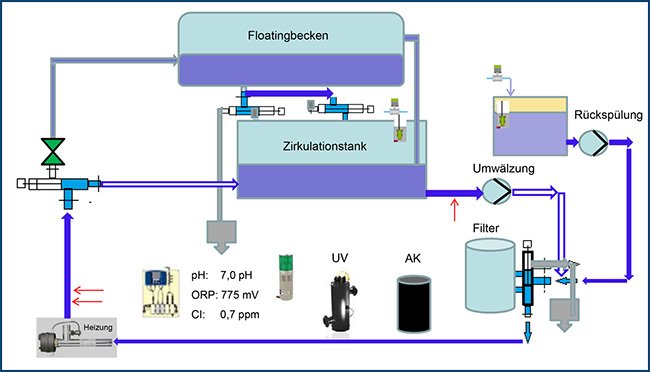 Openfloat offers you
 1. Safety
Our own state-of-the-art cleaning and filtration systems satisfy the highest requirements. The automatic control and measurement technology is certified to DIN 19643 of the German bath regulations and delivers hygienic and odour-free water treatment at all times.
An additional brine processing tank enables complete emptying, filling and cleaning of your flotationpool in just a few minutes. The following procedures are conducted automatically and using state-of-the-art technology: measurement of water parameters, dosing of necessary chemicals and monitoring using sophisticated equipment supplied by our partner Prominent.
Using a keyboard and high-quality, user-friendly display or your iPad you can control the entire floating process, including water treatment and the cleaning system – at your convenience.
A perfect system that finds sufficient space everywhere, easy to install and capable of immediate use.
2. Trust
We have a worldwide network of strong and reliable partners, offering our customers expert and prompt service. Openfloat is your experienced contact for health authorities and also supports you in difficult situations until their successful resolution.
3. Innovation & sustainability
Openfloat has been developing flotation units and flotationpools since 2006. We are distinguished in particular by the uniqueness of the individual manufacture of our flotationpools. Whilst our competitors are still in the process of developing their flotation units, we have already found the most innovative and efficient system for you.